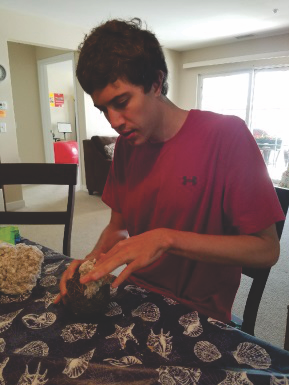 Our son, Kevin, is 24 years old. He has autism and limited verbal abilities. He enjoys recreation and volunteer activities. In his spare time, he makes nesting balls. Kevin has paid employment for a total of 5 hours per week at a clothing store and a local farm.
Over 85% of people with developmental disabilities are unemployed. Our family started Krafts By Kevin™ in March 2017 to help address this problem. Kevin is our first employee. Our first product is the Nest-EZ™ Nesting Ball for birds. Due to the growing popularity of bird watching, Krafts By Kevin™ has sold over 500 Nest-EZ™ Nesting Balls in the Company's first three months!
The long term goal of Krafts By Kevin™ is to provide paid employment for individuals with and without disabilities in an integrated, disability‑friendly work environment. Thank you for supporting our mission at Krafts By Kevin™.
Cindy and John O'Connor
This website was launched in October 2017 to coincide with National Disability Employment Awareness Month.
Held each October, National Disability Employment Awareness Month (NDEAM) is a national campaign that raises awareness about disability employment issues and celebrates the many and varied contributions of America's workers with disabilities.
OUR LOGO - Our mission is reflected in our company's logo.
The heart-shaped leaves represent a dedication to those we love who courageously meet challenges on a daily basis.

The two hands outstretched symbolize an integrated environment where employees of all abilities work together in support of each other.

The roots of the tree embedded in the land illustrate a hope for a workplace rooted in the community.

The nesting ball and bird identify the first product offered to the public.

Finally, the tree signifies the growth that is inevitable when we bring people of all abilities together to learn from one another.
Interested in selling Krafts By Kevin™ products?
Krafts By Kevin™ products are great sellers in many retail environments, from Home & Garden and Gift Shops to big box retailers.